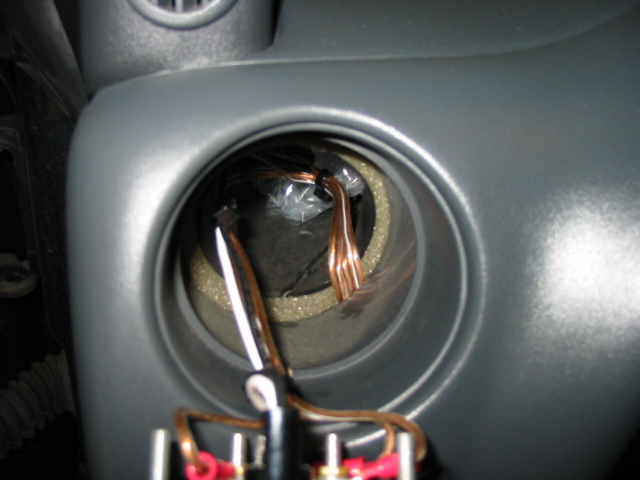 Installing the gauge into the vent.
Once you empty the gauge kit, you will notice the gauge has a cardboard ring around it. Leave it on there because this will aid on the mounting of the gauge. Also, the kit includes a green and red boot, to choose from, for nigthtime illumination. Remove the light from the rear of the gauge and install the boot of choice. You can also not install one and have white illumination. Now, remove the AC Vent. This can be a pain, but there are two snap rings behind the slats. Squeeze them and the AC vent should come out. Better said than done:( On the back of the gauge, you will see 5 connections. You will need to cut 5 pieces of wire for each connection and I used 18 gauge wire. I cut the following wires to these lengths:
+12Vdc - 2 feet
+12Vdc Ground - 3 feet
Temp Signal - 5 feet
Temp Signal Ground - 3 feet
+12Vdc Illumination - 2 feet
Install ring crimp connectors on to each wire and install them on the back of the gauge using the supplied hardware. I also wrapped them with 3M electrical tape for added protection against electrical shorts. Be sure to mark the wires on both ends.
Now, pull out the dash trim bezel and it is held in with friction snaps. This the rounded bezel over the dash cluster. Look into the AC Vent and you will see foam separating the bezel and the dash. Route the wires down through the foam. Remove the rectagular panel under the steering wheel and it is held in with 4 screws. Two on the front of the panel and two just under the dash. Be careful of the trunk release button since the wires are small. Remove the trunk release button from the panel.
Now, pull the wires down from where they were inserted from the AC Vent. Take the two grounds, tie them togther and install a ring crimp connector. Find a metal frame, for grounding purposes, to install the ring and secure.